October 19 - 23, 2020: Archive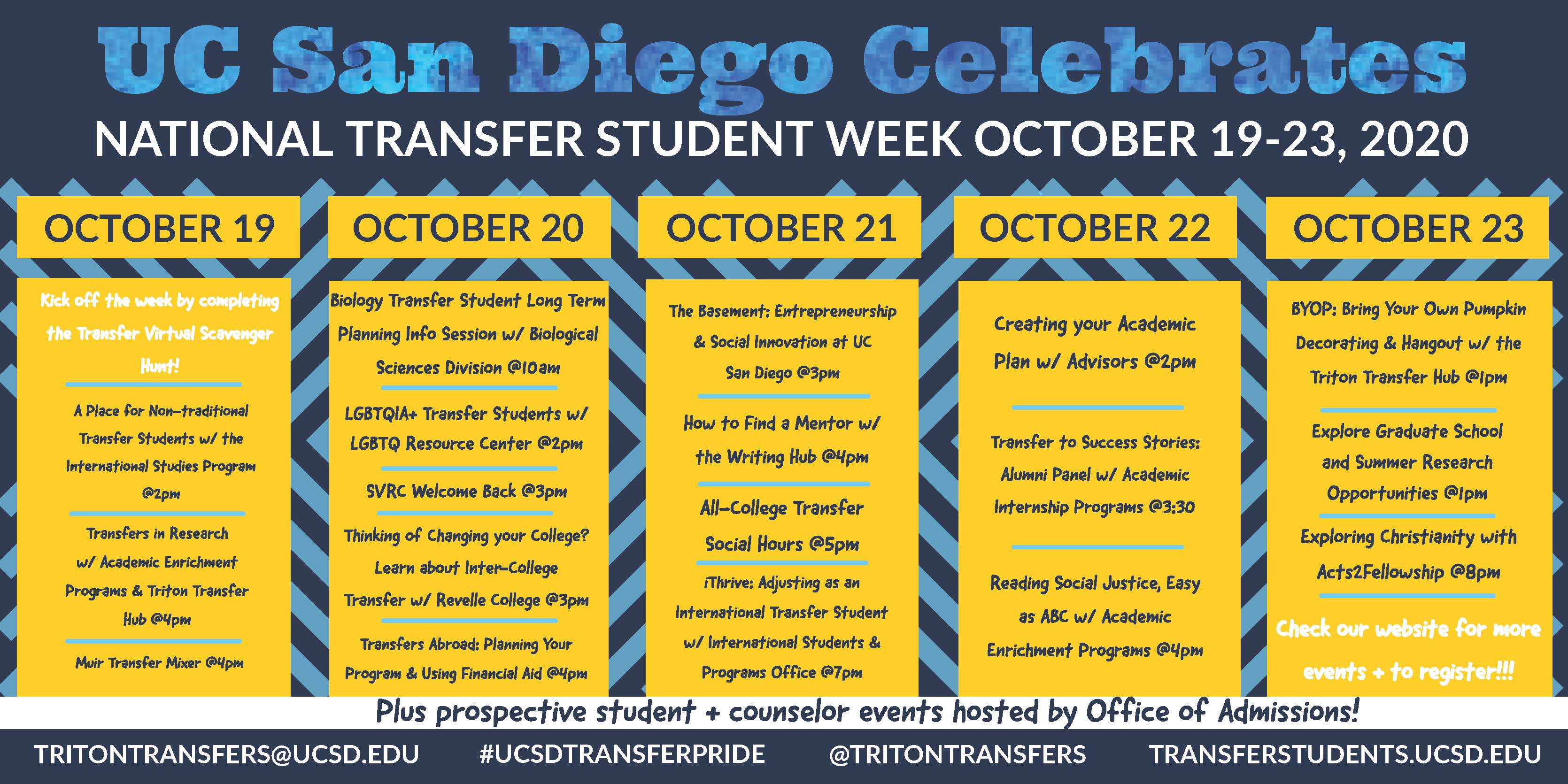 Monday 10/19/2020
A Place for Non-traditional Transfer Students
Hosted by the International Studies Program 

The International Studies Program is happy to have transfer students from different walks of life. In our National Transfer Student Week Event, we are hosting transfer students whose education at UCSD is just a small part of their busy life. We know that our non-traditional transfer students face challenges that most other students don't, and we want to provide a safe space to meet, share personal stories, and voice frustrations that are unique to non-traditional transfers. We think that these students epitomize our program through their commitments off-campus and through their hard work on campus, and want to hear from them directly. If you are a transfer student at UCSD and consider yourself non-traditional, we look forward to having you at our event!
2pm - 3pm PST
Transfers in Undergraduate Research - for STEM, Social Sciences and everything in between!
Hosted by Academic Enrichment Programs and the Triton Transfer Hub
Interested in undergraduate research? There are an abundance of opportunities on campus, it's just about knowing your resources. Learn from a panel of transfer students, your transfer peer coaches, and Academic Enrichment Programs on how you can find opportunities undergraduate research in a variety of majors.                    
4pm - 5pm PST
 Watch previous events on TritonTransferTV's 2020 NTSW Playlist
Muir Transfer Mixer!
Hosted by Muir College Student Affairs
Take a break from all your school work and join us on Zoom on October 19, 2020 at 4:00pm-5:00pm. Learn more about the resources available to Muir transfer students from different student leaders in the College. It will be an awesome event and a chance for you to connect and get to get to know your fellow transfers with some fun games and awesome prizes.            
4pm - 5pm PST
Tuesday 10/20/2020
Biology Transfer Student Long Term Planning Information Session
Hosted by the Division of Biological Sciences

This information session will cover important resources and tips to assist biology transfer students in building a major plan that allows for balanced courseloads and timely graduation.
10am - 11am PST
Details will be emailed to biology transfer students. 
 Watch previous events on TritonTransferTV's 2020 NTSW Playlist
LGBTQIA+ transfer students
Hosted by the LGBT Resource Center
Join the Director of UC San Diego's LGBT Resource Center on Tuesday, October 20th at 2pm for conversations about being a transfer student, navigating LGBTQIA+ identity, and creating community at UC San Diego.
2pm - 3pm PST

Thinking of Changing your College? Learn about Inter-College Transfer with Revelle College
Hosted by Revelle College
If you are interested in learning about how to switch Colleges, join us to discuss the Inter-College Transfer process. Learn about the required steps and tips to prepare if you'd like to apply for this exception. Hosted by Revelle College Advising, but open to students in all Colleges!
3pm - 4pm PST


 

 

 Watch previous events on TritonTransferTV's 2020 NTSW Playlist



SVRC Welcome Back
Hosted by the Student Veterans Resource Center
Join us for our Fall Welcome Back event. Meet our staff and get to know your military-connected community.
3pm - 4pm PST


Transfers Abroad Info Session
Hosted by Study Abroad Office
There are lots of opportunities for transfer students to study abroad, but they require planning in advance. Come see if study abroad may work for you! You'll learn about the different opportunities, what steps you need to take as a transfer student and how financial aid works with each. In addition, one participant will be selected randomly to receive a study abroad t-shirt and UCEAP mini travel bag!
4pm - 5pm PST
Wednesday 10/21/2020
The Basement: Entrepreneurship & Social Innovation at UC San Diego
Hosted by the Office of Innovation & Commercialization - The Basement 
Are you an aspiring Triton student entrepreneur? Do you want to make a positive impact on society through innovation and creativity? Do you want to take what you've learned in the classroom and apply them in a real life setting to make a difference? If you answered "Yes!" to any of these questions, The Basement is here for you! In honor of Transfer Student Appreciation Week, we are featuring a panel of UC San Diego current transfer students and recent alumni who have participated in The Basement programs. Hear their stories and learn more about the programs, events, and opportunities available at The Basement. Don't miss out on this panel discussion and transfer students can enter in a raffle opportunity to win an entrepreneurship library starter kit!  
3pm - 4pm PST
 Watch previous events on TritonTransferTV's 2020 NTSW Playlist
How to Find a Mentor
Hosted by Teaching + Learning Commons
What's the purpose a mentor? How do you identify a mentor? How do you reach out to a potential mentor? All of these questions will be answered in this workshop, which is open to all, but highly encouraged for transfer students. In honor of National Transfer Student Week, all transfer students in attendance will receive a gift from the Teaching + Learning Commons.
4pm – 5:15pm PST


All-College Transfer Social Hours 
Hosted by Council of Assistant Dean of Student Affairs
Join us for our bi-quarterly Inter-College Transfer Social Hours! Although we may not be able to meet in person, moving virtually can't stop the fun and friendship! For this upcoming Transfer Social Hours, take a break and unwind as we play a variety of online board games and meet other transfer students from across different colleges.
5pm - 7pm

iThrive: Adjusting as an International Transfer Student
Hosted by International Students & Programs Office
iThrive is a series that provides students with an opportunity to explore identity and culture through group discussions, activities and presentations. This series will also highlight resources on campus that support cross-cultural exchange and communication. Through cultural and identity exploration, we can THRIVE. On Wednesday, October 21st we will be focusing on international transfer students in honor of National Transfer Week! Come learn and discuss the issues specific to being an international transfer student.
7pm - 8pm PST
Thursday 10/22/2020
Creating your Academic Plan

Hosted by Academic Advisors
As a transfer student you might already be thinking about your path to graduation. Join Advisors as we give you the tools and resources to build your individual quarterly plan!
2pm - 3pm PST

 Post-Event resources: 

Transfer to Success Stories: Alumni Panel
Hosted by Academic Internship Program; Teaching + Learning Commons
Join The Teaching and Learning Commons for a transfer alumni panel focused on tips and tools for success as you navigate your experience from college to career!
3:30pm – 5pm
 Post-Event resources: 

Reading Social Justice, Easy as ABC
Hosted by Academic Enrichment Programs
To celebrate National Transfer Student Week (NTSW), Triton Transfers and Academic Enrichment Programs are partnering to host a reading & discussion group that will foreground topics of racial, gender, and socioeconomic inequity.
4pm – 5:30pm PST
Friday 10/23/2020
BYOP: Bring Your Own Pumpkin Decorating & Hangout

Hosted by Triton Transfer Hub
Let's take a minute to get into the Fall spirit by decorating pumpkins! Please bring your own pumpkin and decorations to this event. Don't have a pumpkin or just want to hang out and meet other transfers? No problem! Join the Triton Transfer Hub and your peer coaches for a great, relaxing, Friday afternoon!           
1pm - 3pm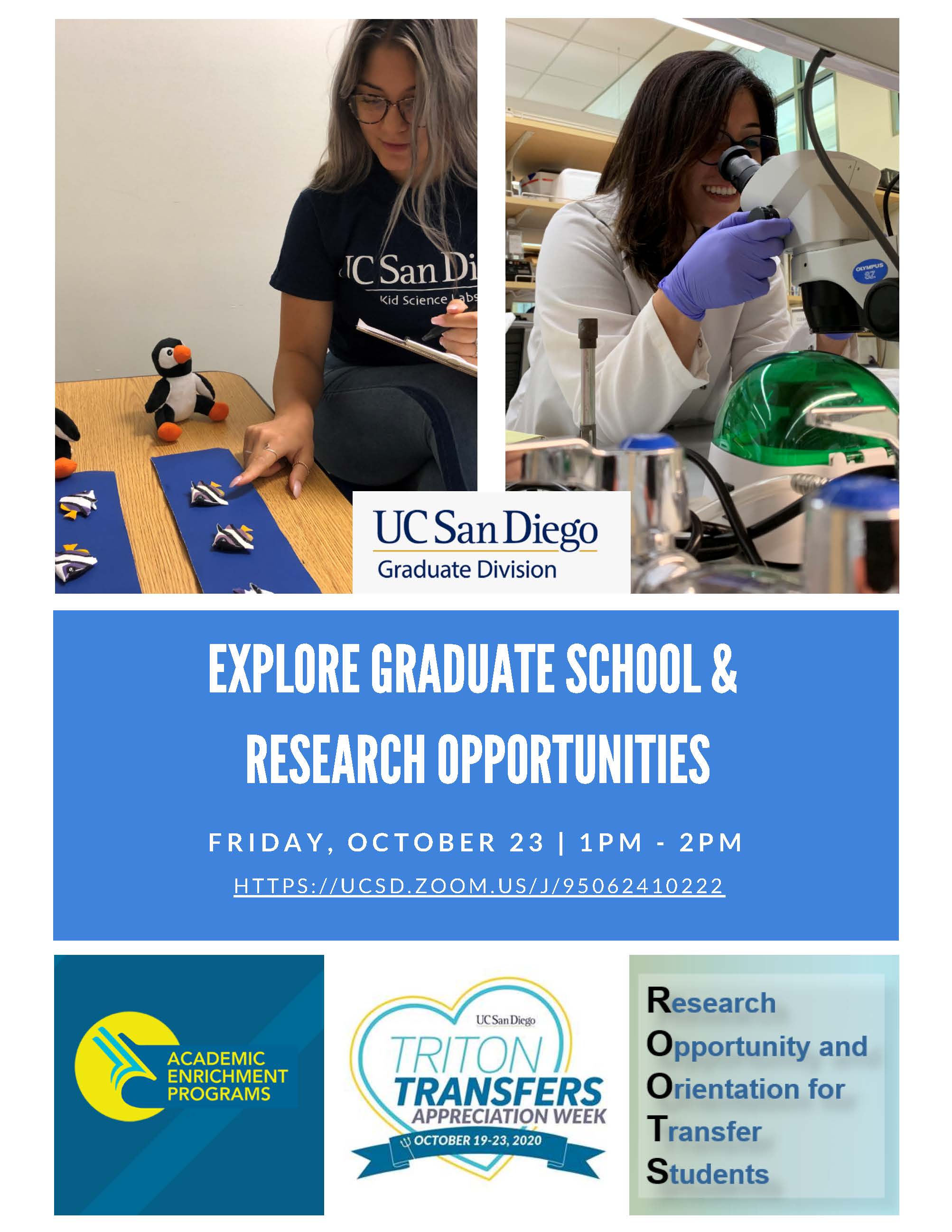 Explore Graduate School and Summer Research Opportunities
Hosted by Graduate Divison, AEP, ROOTS
Meet undergraduate and graduate transfer students! Learn about their journey as a transfer student through undergraduate and graduate education. Consider graduate school and prepare now by learning about research opportunities at UC San Diego.  
1pm - 2pm



Exploring Christianity  
Hosted by Acts2Fellowship
Come meet other current Juniors in Acts2Fellowship! Play some games, make some new friends, hear some stories about their experiences at UCSD.    
8:00 PM          


 Watch previous events on TritonTransferTV's 2020 NTSW Playlist