STEP into 2023
---
UC San Diego welcomes our new first-year transfer students to STEP into 2023!
The Summer Transfer Enrichment Program (STEP) prepares incoming Triton Transfers for their first quarter and beyond. This summer transition program is designed exclusively for incoming transfer students by providing a variety ways they can connect with information, resources, and each other, all before stepping onto campus for the first time in September. 
STEP into 2023 enables you as an incoming transfer student to build your own success story. Because we are aware that transfer students come in with a variety of needs, this program is set up with your individuality in mind. Although we hope to see you at every opportunity, you can participate in any - or all - steps along the way. Choose the steps and topics which meet your needs and interests.
Missed a STEP?
Missed a Triton Talk? Want to watch one again? Do not have time for a whole Zoom but want the main points? The Triton Transfer Hub has your back! Click below for all we have learned this summer with STEP!
What are my next STEPS?

Your program, your way. Choose how you want to particiate.
STEP into 2023 NOW
To sign up to participate in Transfers Connect, RED Talks, and to take the Triton Transfer Promise, fill out the STEP Into 2023! interest form!
By participating in the steps of STEP into 2023, first-year transfer students will be able to:
Make a successful transition from community college by celebrating their lived experiences, wealth of knowledge and skills sets.
Identify campus resources specific to their needs.
Discover how to find various research opportunities and connect with potential faculty mentors
Establish a strong sense of belonging by developing a social network with peers, faculty and staff.
Why should you participate?
Get a jump start on your UCSD experience!
Gain research experience and mentorship.
Meet fellow transfer students like yourself.
Connect with resources early.
Get your questions answered.
Receive opportunities to win UCSD swag at each session!
Any individual who took part in STEP into 2023 will have the chance to join us for STEP Welcome Day on Wednesday, September 27. This will be an exclusive in-person opportunity to meet others who have STEPPED into the year with you, and a chance to meet a community of like-minded transfer students. 
AGENDA:
11:00am - 12:00pm - Welcome and activities
12:00pm - 1:00pm - Lunch
1:00pm - 2:00pm - Optional campus tours (find your classes!)
 This event is invitation only. Make sure to check your inbox before school starts to get connected!
Questions?
E-mail tritontransfers@ucsd.edu
STEP was built off of the pilot, Triton Transfer Edge, a collaboration with the Marshall College, Teaching & Learning Commons, and Undergraduate Research Hub.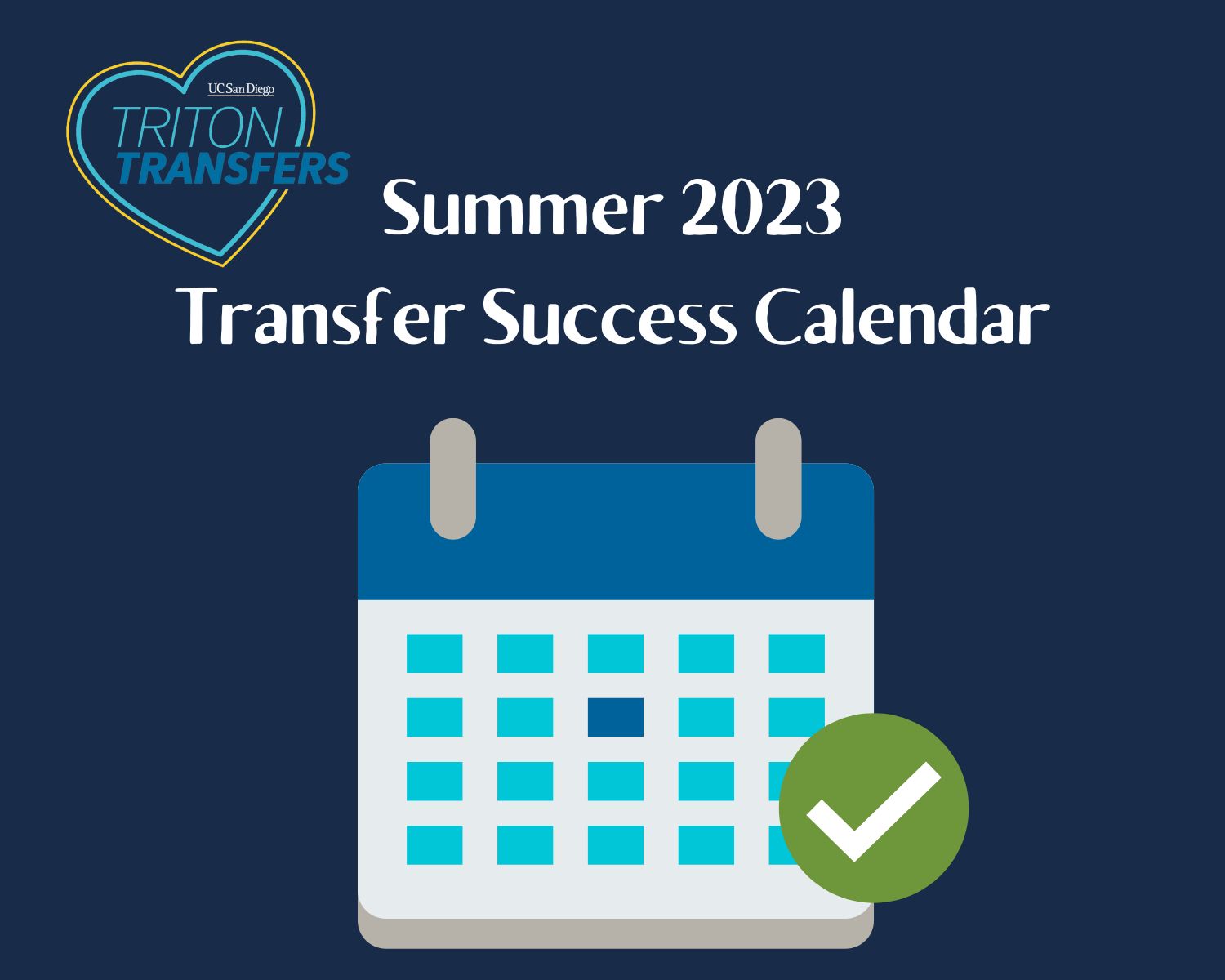 Your Events Summer Calendar is Here!
The Transfer Hub, campus departments, and the colleges have events both virtual and in-person throughout the summer to help make your transition UCSD as smooth as possible. Checked them out by clicking the button below!

Step 23 Calendar PDF EMBEDDED ON SITE by Triton Transfers