Transfer Prep Summer Series

Welcome to UC San Diego! Our Transfer Summer Prep Series is here to introduce you to all things transfer you may be wondering about. Whether it be IGETC certification, housing, research and internship opportunities, and course advising please join us and bring any questions you may have.
Open the drawers below to find more details on each event.
Housing deadlines are just around the corner. Join us and HDH to learn a little bit about transfer housing and your on and off-campus options.
Tuesday, May 24, 2022
4:00pm - 5:00pm
Zoom: 968 2764 0143
Wednesday, June 1, 2022
5:00pm - 6:00pm
Zoom: 927 1166 9248
Missed it? Watch the recording:
Are you IGETC Certified? Are you unsure? Can you confirm your IGETC has been submitted? How about your other transcripts? All this and more...as we meet with Admissions and Advising to talk about all things IGETC and transcript submission.
Wednesday, June 15, 2022
3:00pm - 4:00pm
Zoom: 946 2072 7318
Missed it? Watch the recording: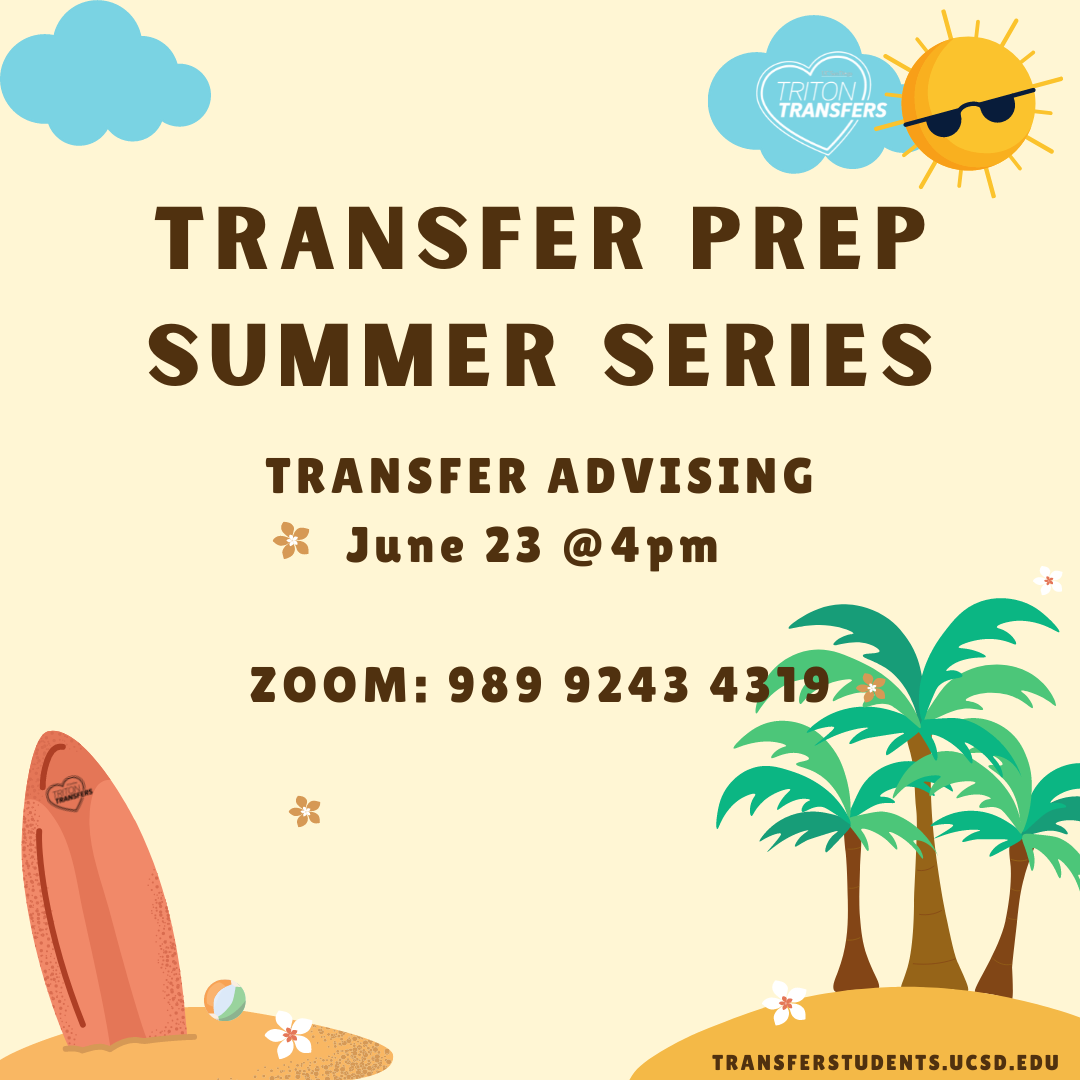 You're likely already thinking about your Fall schedule, wondering how to start planning. Come to this session and bring your questions. We will have College Advising join us to give you the run down on what to expect. 
Thursday, June 23, 2022
4:00pm - 5:00pm
Zoom: 989 9243 4319
Missed it? Watch the recording:
Clarification: For the Academic Background in the New Triton Advising, you should only submit your in-progress courses. You do not need to add all classes you have previously taken.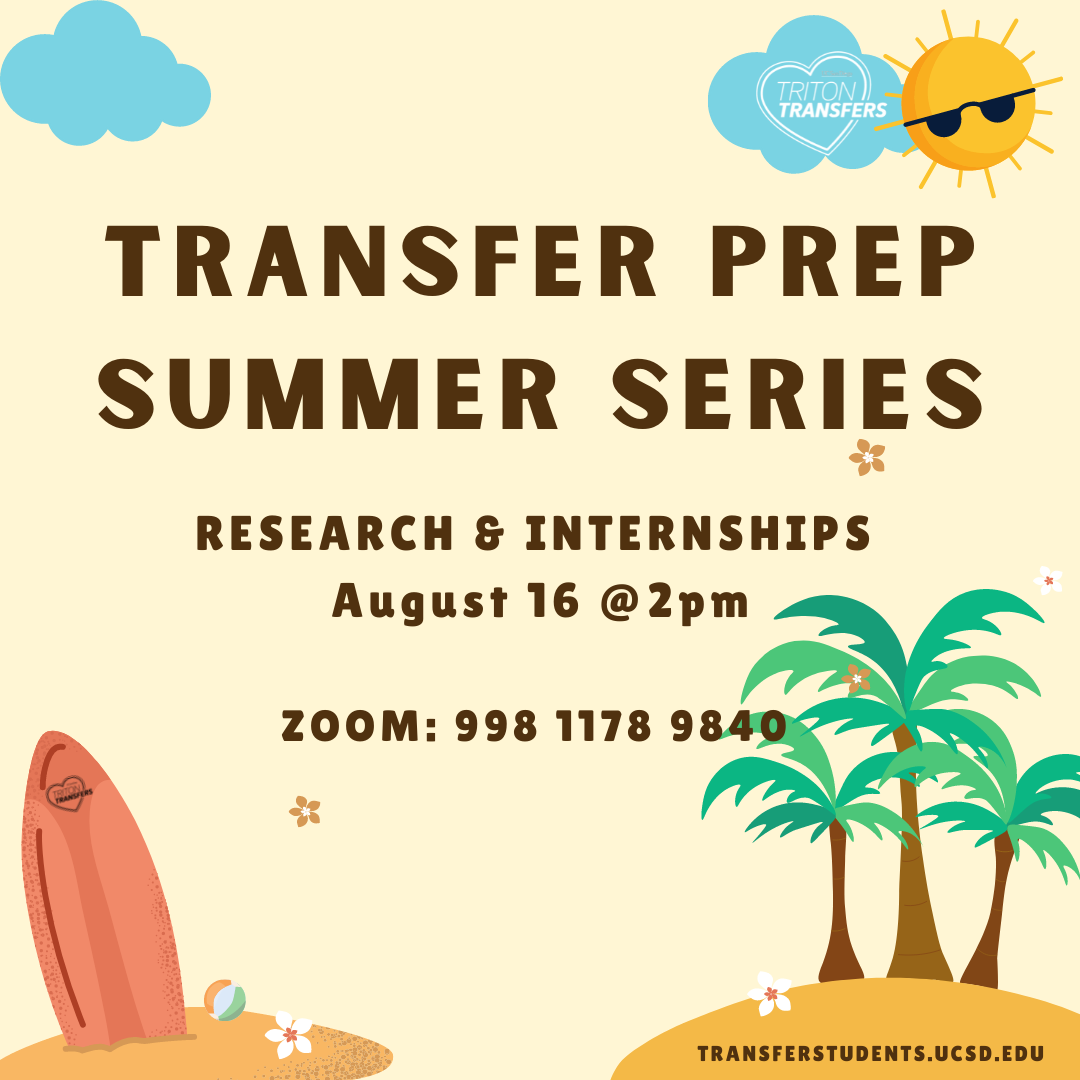 We know the reason you're coming to UCSD is to connect to amazing opportunities which can set you up for success after graduation. There are so many ways to build your resume, but where and when do you start? We will bring in the Undergraduate Research Hub, Academic Internship Program, and the Career Center for this session. 
Tuesday, August 16, 2022
2:00pm - 3:00pm
Zoom: 998 1178 9840
Missed it? Watch the recording:
Wondering what the Transfer Hub is all about? We've got all the details for you! Join us to learn more about the Triton Transfer Hub and all that our space has to offer.

 

Wednesday, August 24, 2022

12:00pm - 1:00pm

Zoom: 986 6276 7742
Missed it? Watch the recording:
Transfer Prep is a 4-day program held over the summer for incoming transfer engineering students. This FREE program provides incoming students with the opportunity to acclimate to campus life, build skills and habits necessary for success in engineering, and develop community amongst their peers before beginning their courses in the fall.

This free program provides incoming transfer engineering students an opportunity to interact and build community with peers and current engineering students who will serve as your mentors throughout the duration of the program. You will participate in academic and social activities that include connecting with faculty, staff and current students through workshops, small group discussions, and information sessions.

Transfer Prep Application Opens: Tuesday, May 13, 2022

Transfer Prep Application Deadline: Thursday, June 9, 2022 11:00PM PST. 

   
To ensure that our digital and physical space remains a friendly, stress-free, and welcoming environment for everyone, we have created a set of community guidelines for all students, staff, and visitors to follow when they are engaging.
Join the conversation: get to know the group! Introduce yourself and ask each other questions. We encourage you to reach out to one another and build relationships here!
Inclusive language: practice inclusive language for all various identities.
Be respectful: treat others how you (and they) want to be treated. Any trolling we see take place will immediately be deleted and user removed from the group; individuals will be removed from physical space.
Safe space: we encourage students to promote a safe environment so students may comfortably use the space. Content that is considered racist, offensive or hurtful to others will be immediately removed and individuals will be removed from physical and digital space.
The Triton Transfer Hub moderators reserve the right to delete content and remove users from digital and physical spaces.