Get Tips from the Transfer Peer Coaches in the Triton Transfer Hub!
Join us for National Transfer Student Week: October 19 - 23
National Transfer Student Week celebrates transfer students and the professionals who support them on their journeys. Join UC San Diego in a week of fun - with an assortment of events hosted by the Triton Transfer Hub, colleges, and departments!
Triton Transfer Hub
Get connected with other transfer students, attend events, study, and hang out, within the Triton Transfer Hub.
Resources
Whether you are a prospective, incoming, or current transfer student, we have curated or created resources just for you.
Spotlights
Meet fellow students, as well as faculty and staff who have all walked in your shoes.
Triton Transfers
Transfer Student Success provides resources, services, and programs to empower Triton Transfers to achieve their goals as they navigate UC San Diego's academic and cultural landscape. Learn more about our mission and vision, and meet our team!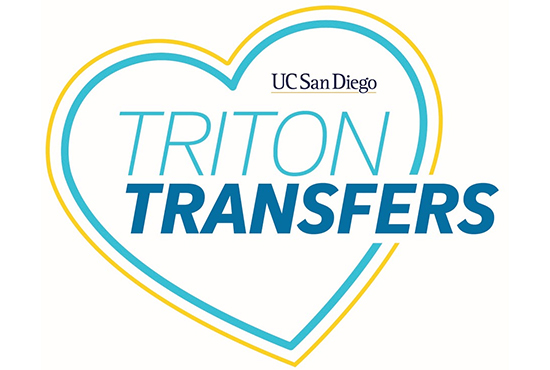 FOR FACULTY AND STAFF
Looking to learn about transfer students at UC San Diego and beyond? We have an array of resources for faculty and staff. Work with our team to make your programs and classrooms transfer-friendly.
 CONNECT WITH US