For Faculty and Staff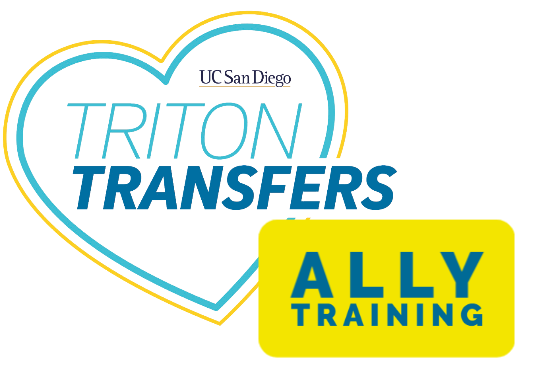 Triton Transfer Ally Training
Within this self-paced training, learn about research-based transfer experiences and apply it to your unique role. Earn badges as you complete each module! Upon completion, you will be an "expert" in transfer student success and receive a certificate as well as your very own Triton Transfer Ally pin and e-sticker.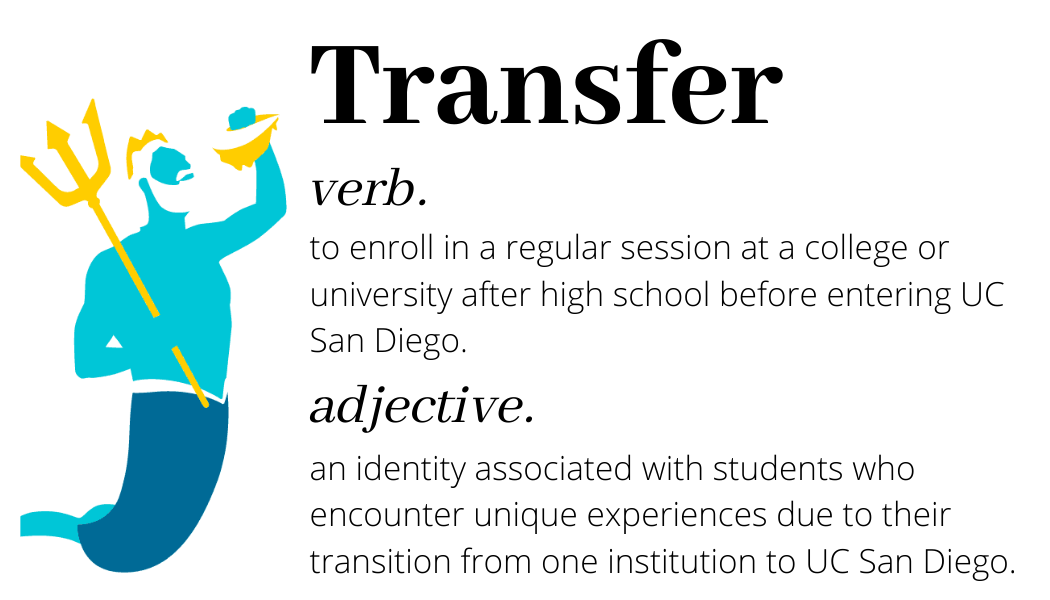 Learn More About Transfer Students
The Transfer Student Success staff are experts on transfer student research and the undergraduate transfer student experience here at UC San Diego. View this resource to learn more about our Triton Transfers and get tips on how to support.
Incoming Student Form Findings
In an effort to learn more about our transfer population's characteristics and preferences, Transfer Student Success sends out an annual intake form to new transfer students. We encourage faculty and staff to review and discuss this information with their colleagues so as to thoughtfully program plan.
Transfer Exit Survey Findings
Transfer Student Success also conducts annual exit survey for graduating transfer students to further understand engagement patterns, feelings of belonging, and post-graduation goals. We encourage faculty and staff to review and discuss this information with their colleagues so as to thoughtfully program plan.
End of First Quarter Survey Findings
In an effort to understand experiences in, through, and out of UC San Diego, Transfer Student Success conducts surveys for first-year transfer students who have completed their first quarter to further understand engagement goals as well as feelings of belonging. 
Presentation & Workshop Requests
Transfer Student Success as an assortment of presentations and workshops focused on transfer resources, services, and topics. Schedule a presentation with us today, and we will work together to meet the needs of your students, faculty, and staff.
Microgrants available!
In efforts to support your connection to our Triton Transfers, Transfer Student Success is offering annual microgrants to co-sponsor your events. Grants up to $500 are available each quarter.
Relevant Research
Interested in brushing up on your transfer student knowledge? We will post new articles every quarter for you to peruse at your leisure. If you would like to discuss how to implement findings into your role, feel free to contact TSS Program Manager, Jackie Duerr (jduerr@ucsd.edu).
Summer 2022
Theme: transfer students and high impact practices
Dupont, R., & Rodenborg, N. A. (2020, June). S-STEM Lessons Learned: Supporting Community College Transfer Pathways and Access to High-Impact Practices During Transfer Transition. In 2020 ASEE Virtual Annual Conference Content Access.
Malone, J. D. (2019). An exploration of the effectiveness of high impact practices as it pertains to first-year non-traditional transfer student's academic success.
Maxwell, K., & Pittman, S. (2022). Experiential learning: An innovative way to bring success in the future endeavors of transfer students. New Directions for Teaching and Learning, 2022(171), 29-35.
Thomas, D. T., Walsh, E. T., Torr, B. M., Alvarez, A. S., & Malagon, M. C. (2021). Incorporating high-impact practices for retention: A learning community model for transfer students. Journal of College Student Retention: Research, Theory & Practice, 23(2), 243-263.
Zilvinskis, J., & Dumford, A. D. (2018). The relationship between transfer student status, student engagement, and high-impact practice participation. Community College Review, 46(4), 368-387.
Faculty & Staff Resources
Transfer Pride
Were you a transfer student? Add this "stamp" to your signature or syllabus!
Classroom Support
Let your transfer students know about the Triton Transfer Hub on day one.
Involve your Transfers
Transfer students enrich our campus! Here are ways you can ensure your program, lab, or research opportunities are transfer-friendly.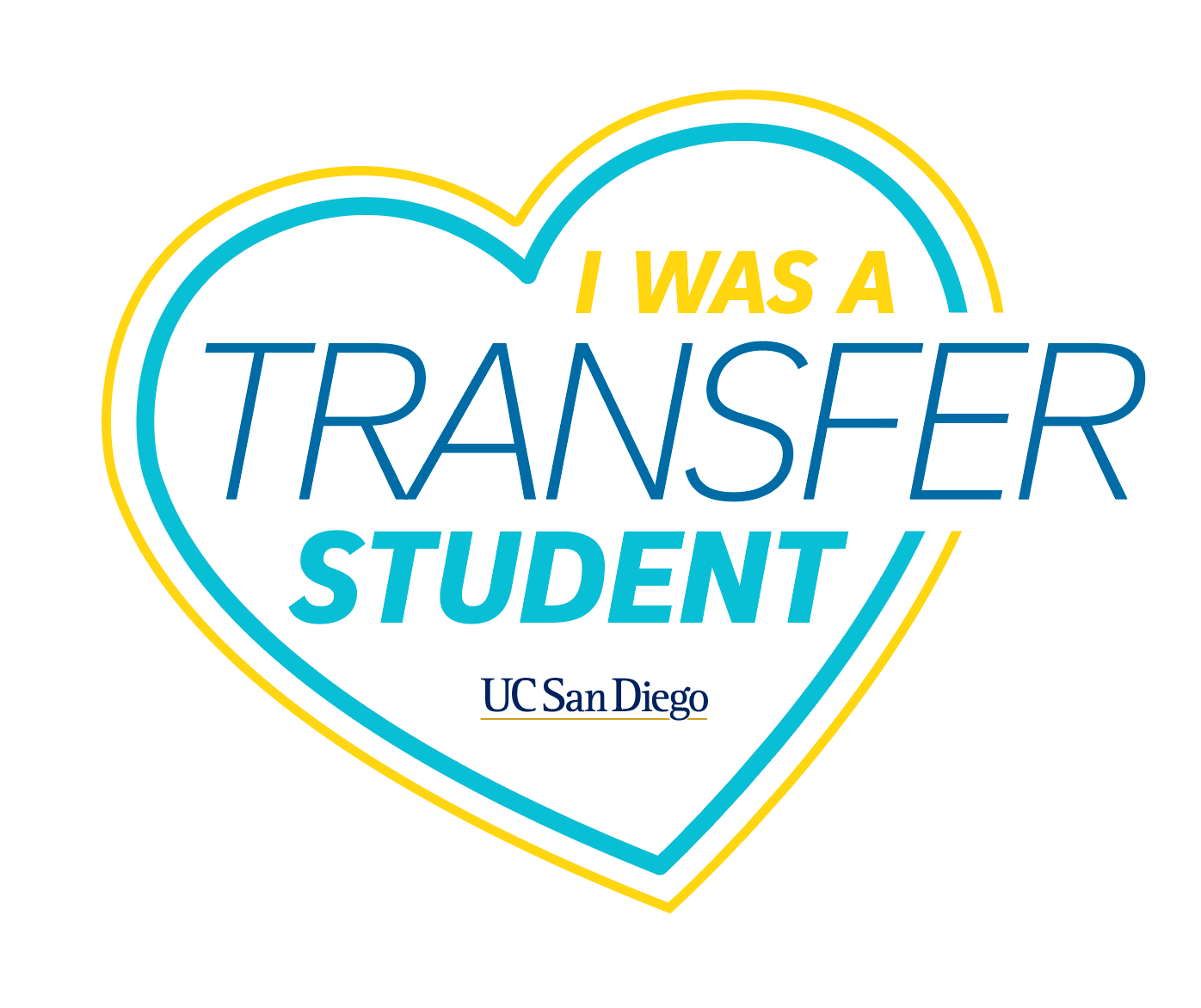 Were you a transfer student?
Faculty and staff are welcome to share their transfer experience and advice by providing a Faculty/Staff profile.
Resources to Support Triton Transfers
Get your transfer students connected early to the Triton Transfer Hub for academic, professional, and personal support:
If you have a unique experience you would like to discuss, please contact Dr. Jackie Duerr, Program Manager for Transfer Student Success.
Newsletter
How to submit content to the Triton Transfer Hub newsletter:
Our newsletters are distributed weekly. Email a flyer and information to TritonTransfers@ucsd.edu by Thursday morning and we will include it in the following week's newsletter! Please indicate whether the event is transfer-specific, or why will appeal to transfers.
Subscribe to our newsletter: