Transfer, Network, Go!

Transfer, Network, Go! Quickstart Guide
Transfer, Network, Go! is a certification program to ensure you hit the ground running by giving you the opportunity to develop connections across different areas within UC San Diego. Transfer, Network, Go! has flexibility so you can get what you need from this experiencee, all while ensuring you engage socially, academically, and professionally. This is a great way to build your on-campus network and your resume!  
This opportunity must be completed within one academic year. We encourage new transfer students to take this on within their first year so you can build these connections early! Although this opportunity is created with transfer student success in mind, it is also open to all UC San Diego students.
What is the benefit of participating in Transfer, Network, Go!?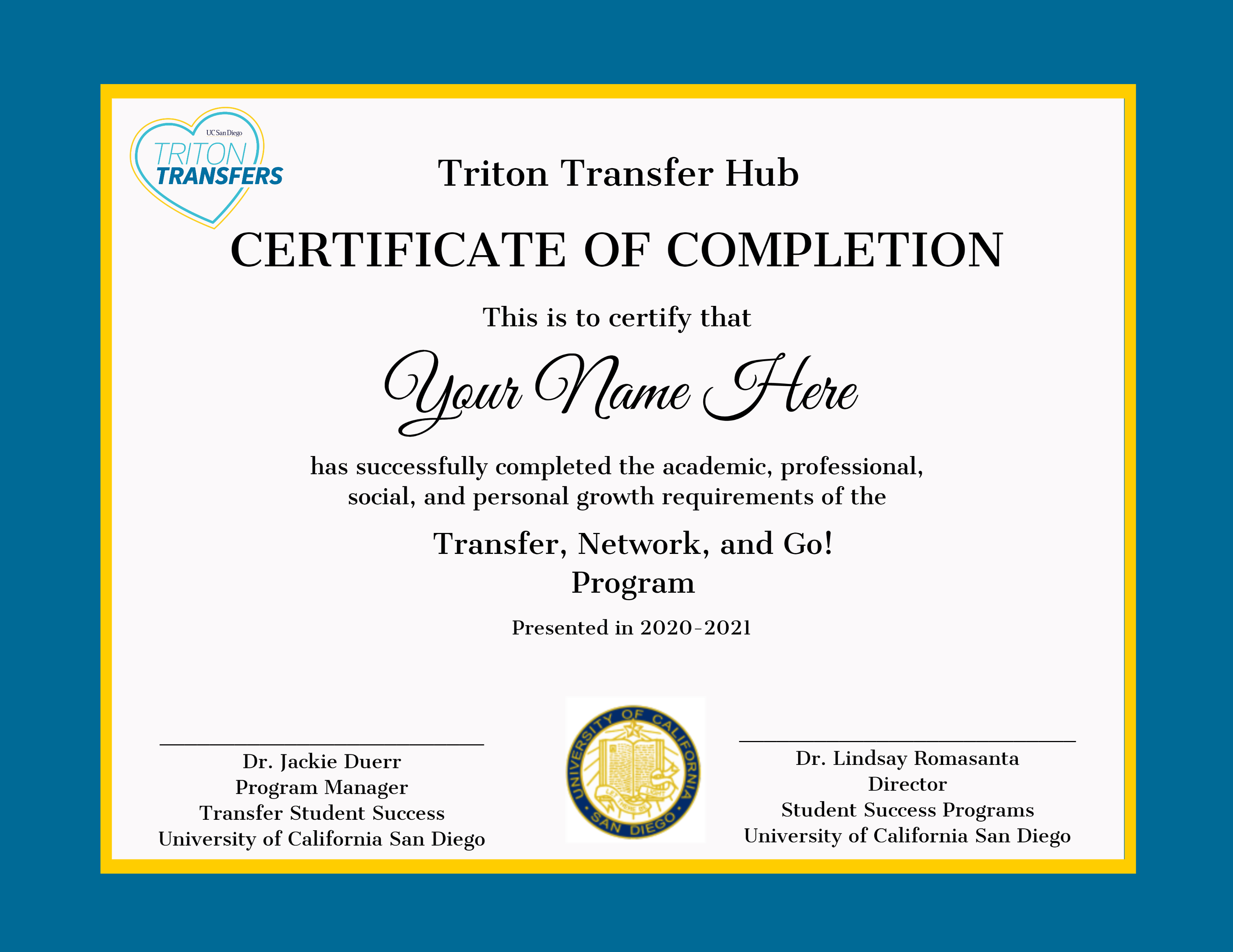 As transfer students, we sometimes feel that we don't have enough time to be involved, or maybe we don't know where to start to find the resources we need. Many times, we only have two years to make the best out of our transfer experience. Transfer, Network, Go! is a great way to get started on making valuable connections and building your network. 
Why is making connections and building your network important? Building a network opens doors to other opportunities across campus, such as jobs, undergraduate research, volunteer work, internships, or letters of recommendations. In addition, students who complete all program requirements will receive a certificate and validation on their Co-Curricular Record (CCR).
What does it mean to have CCR validation?

UC San Diego has an official record called the Co-Curricular Record (CCR) which highlights student involvement and achievements in opportunities beyond the classroom. Each opportunity includes a brief description and the skills developed on an official record.

By completing Transfer, Network, Go!, you will receive official record of your participation in a Professional/Career Development activity and Self-Reflection skills 
 How to complete this Award/Program? 
Step 1: Make a total of ten touch points across campus from the pre-approved list below. You must complete at least two touch points in each of the four categories. Complete the remaining two touch points in any category.
Step 2: As you participate in your touch points, reflect on your experience with our TNG Activity Sheet. Once you finish, complete the Final Reflection & Survey (last page).
Step 3: Submit the TNG Activity Sheet and Final Reflection & Survey to TritonTransfers@ucsd.edu by no later than Spring quarter, Week 10, for approval. Please note that we will be approving throughout the academic year, so you can submit early!
Categories:
If there is an opportunity you would like to count towards one of these criteria that is not listed, please email the opportunity to
TritonTransfers@ucsd.edu
for advanced approval.