Events & Office Hours in the Triton Transfer Hub
loading...
Fall 2023
De-Stress Event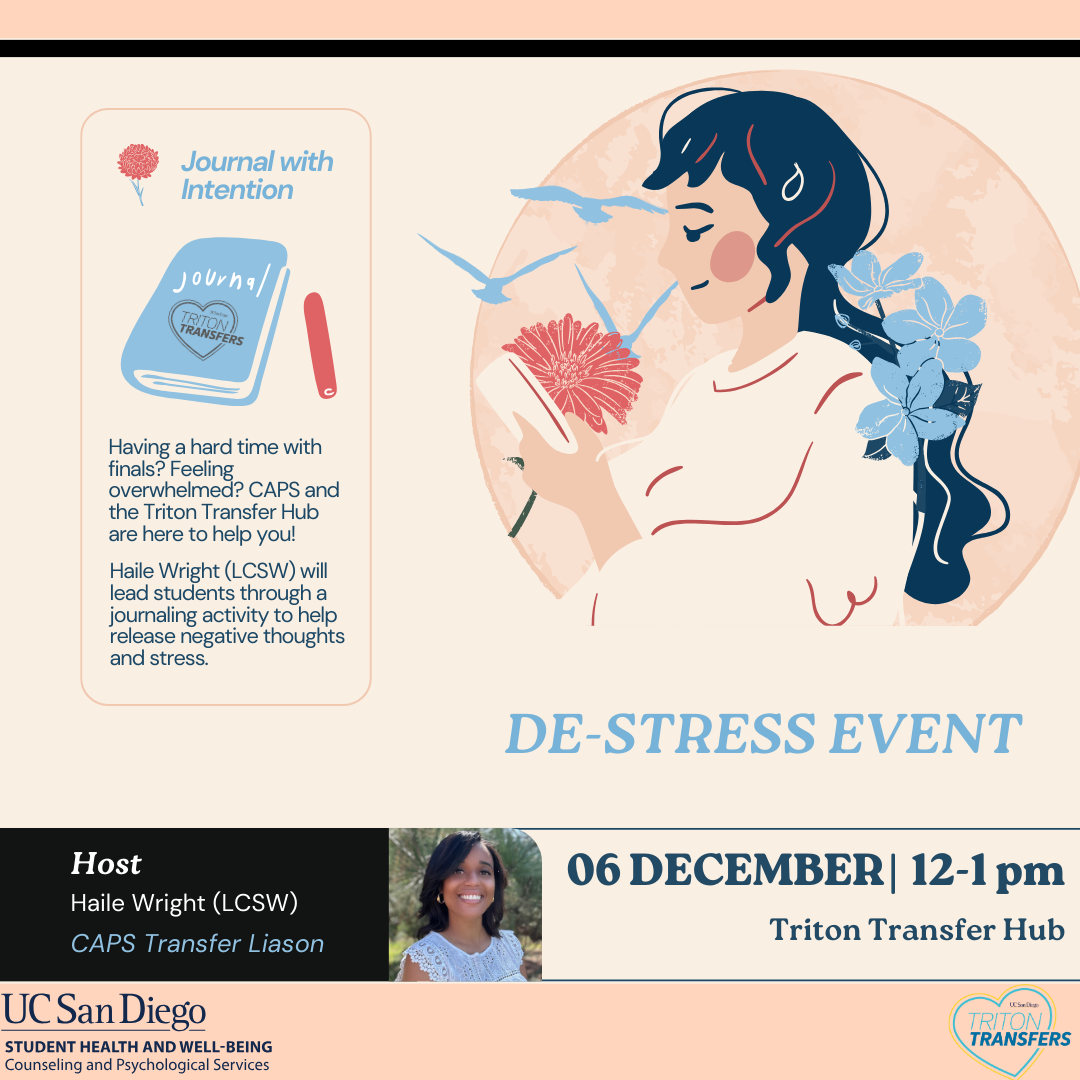 Having a hard time with finals? Feeling overwhelmed? Join us for a fun journaling activity to help release some stress, led by Haile Wright (LCSW) from CAPS!
Wednesday, December 6th, 12pm-1pm @ Triton Transfer Hub
Pizza will be served on a first come first serve basis.
*Disclaimer:
These meetings are not professional counseling. If you would like professional counseling or mental health treatment, please call the CAPS central office at (858) 534-3755 to arrange an appointment.
---
Finals Study Jam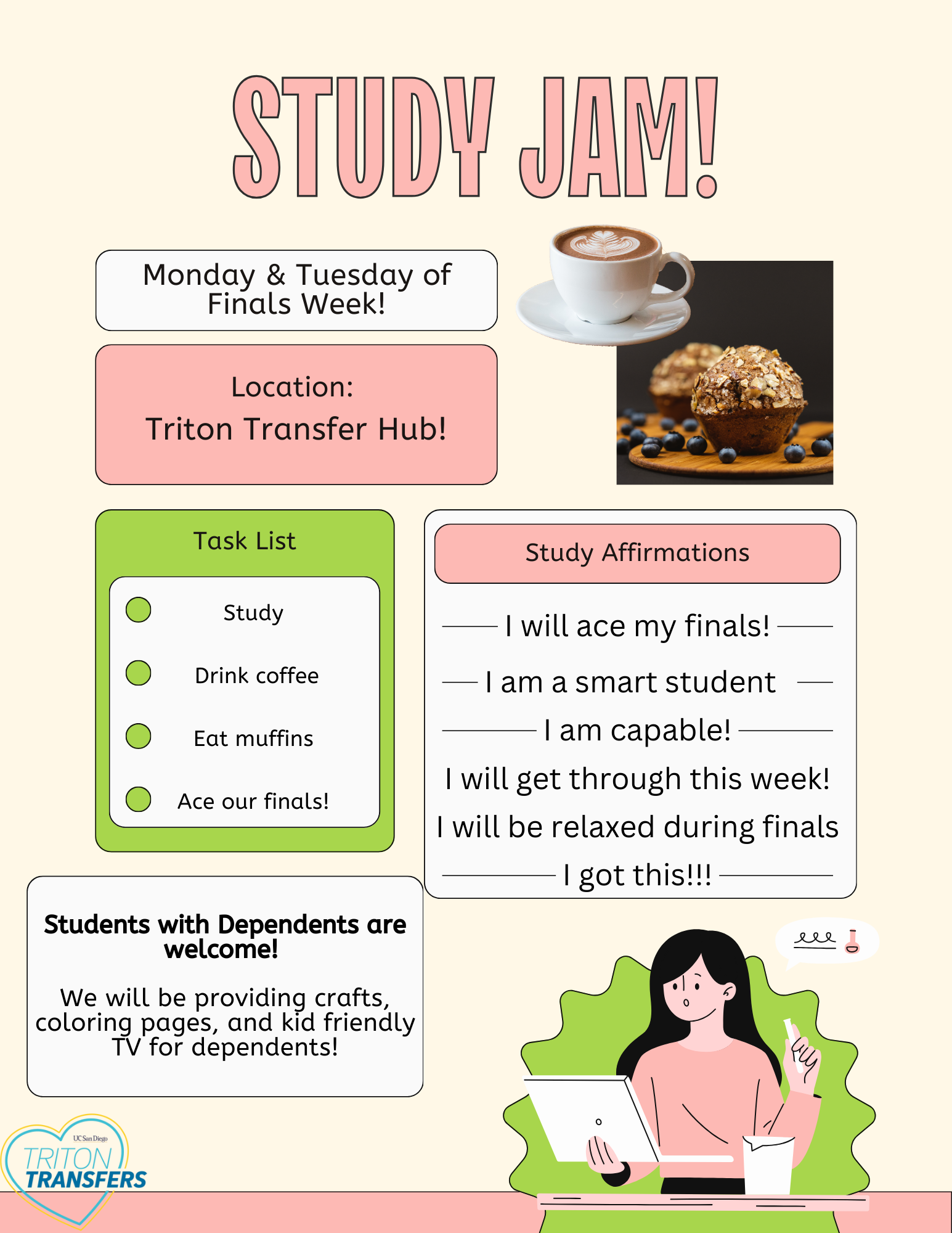 With Finals season ahead, the Triton Transfer Hub has your brain food ready. Drop by to study and enjoy some coffee and muffins! Until supplies last.
Students with dependents are welcome! Crafts, coloring materials, and kid-friendly TV will be provided for dependents. 
We are extending our office hours on 12/11 and 12/12 from 9am-7pm!
Monday, December 11
Tuesday, December 12
---
Holiday Toy Drive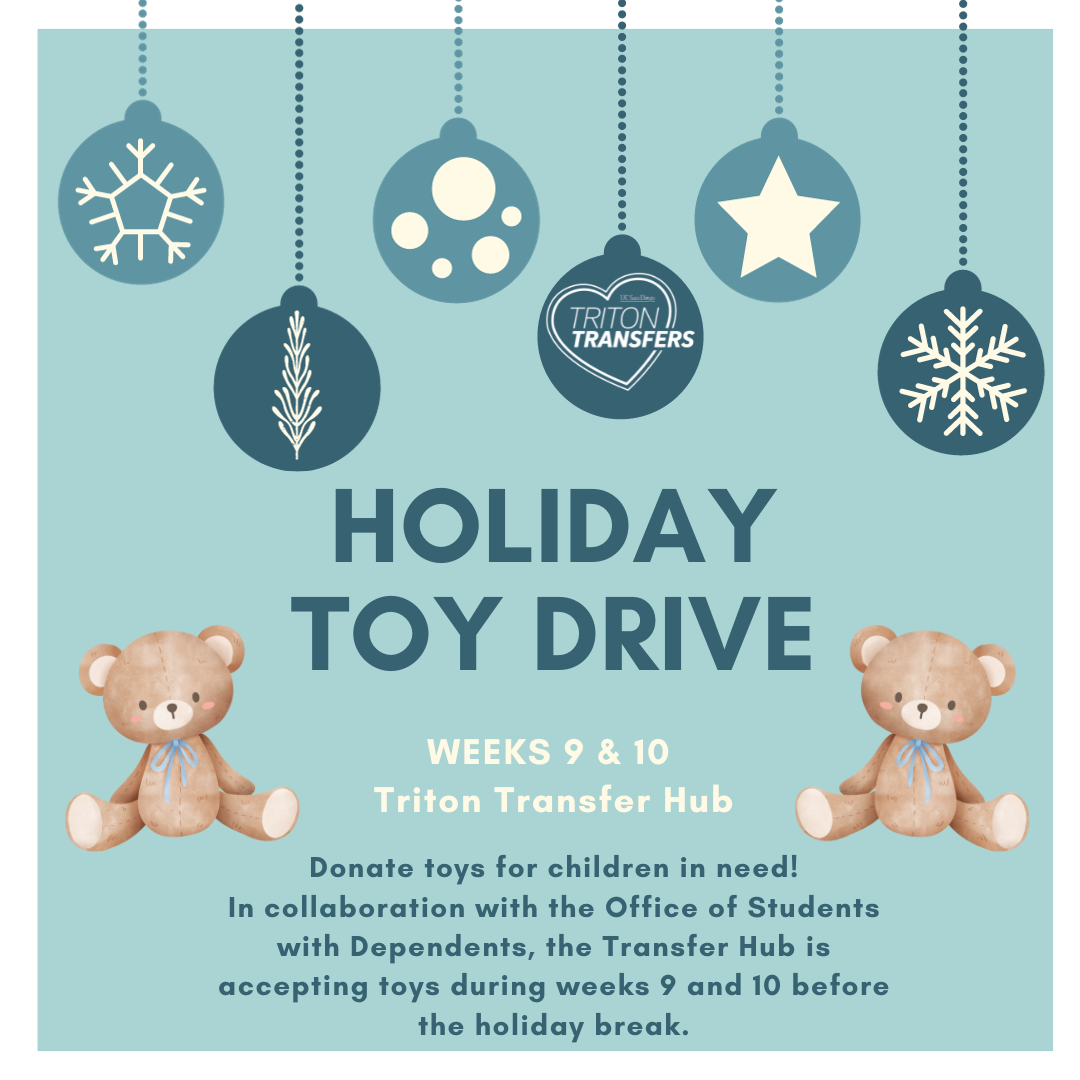 Donate toys for children in need! In collaboration with the Office of Students with Dependents, the Transfer Hub is accepting toys during Weeks 9 and 10 before the holiday break.
---

Off-Campus AS Senator Drop-in Hours
On Wednesday, November 8th, the Associated Students(AS) Off-Campus Senators will be hosting drop-in hours at the Transfer Hub from 2-4pm. Stop by to meet your off-campus senators and discuss any thoughts you have for ASUCSD.
@ the Triton Transfer Hub
---
Week 5
Tuesday 10/31 and Wednesday 11/01, 2pm-4pm
Week 10
Tuesday 12/05 and Wednesday 12/06, 2pm-4pm
Join us at the Triton Transfer Hub for writing drop-ins! This will be a chance for you to get support on your writing assignments by a Writing Tutor from the Writing Hub. Come write in community with your Triton Transfer peers!
---
 Community guidelines
To ensure that our digital and physical space remains a friendly, stress-free, and welcoming environment for everyone, we have created a set of community guidelines for all students, staff, and visitors to follow when they are engaging.
Join the conversation: get to know the group! Introduce yourself and ask each other questions. We encourage you to reach out to one another and build relationships here!
Inclusive language: practice inclusive language for all various identities.
Be respectful: treat others how you (and they) want to be treated. Any trolling we see take place will immediately be deleted and user removed from the group; individuals will be removed from physical space.
Safe space: we encourage students to promote a safe environment so students may comfortably use the space. Content that is considered racist, offensive or hurtful to others will be immediately removed and individuals will be removed from physical and digital space.
The Triton Transfer Hub moderators reserve the right to delete content and remove users from digital and physical spaces.
---
Looking for More?
Check out the University Centers Student Events Calendar for events across campus!
Search "Transfer" in the top-left search bar for transfer-specific opportunities: