New Admits
Welcome Newly Admitted Triton Transfers!
We are thrilled you will be joining the UC San Diego family. Our resources below will set you up for success. Browse upcoming timelines and FAQ's, get connected to STEP into 2023 and other summer transition programs, connect with a peer coach, and so much more. Scroll, click, or tap and get connected today!
Timelines & Guidelines
Know what's coming your way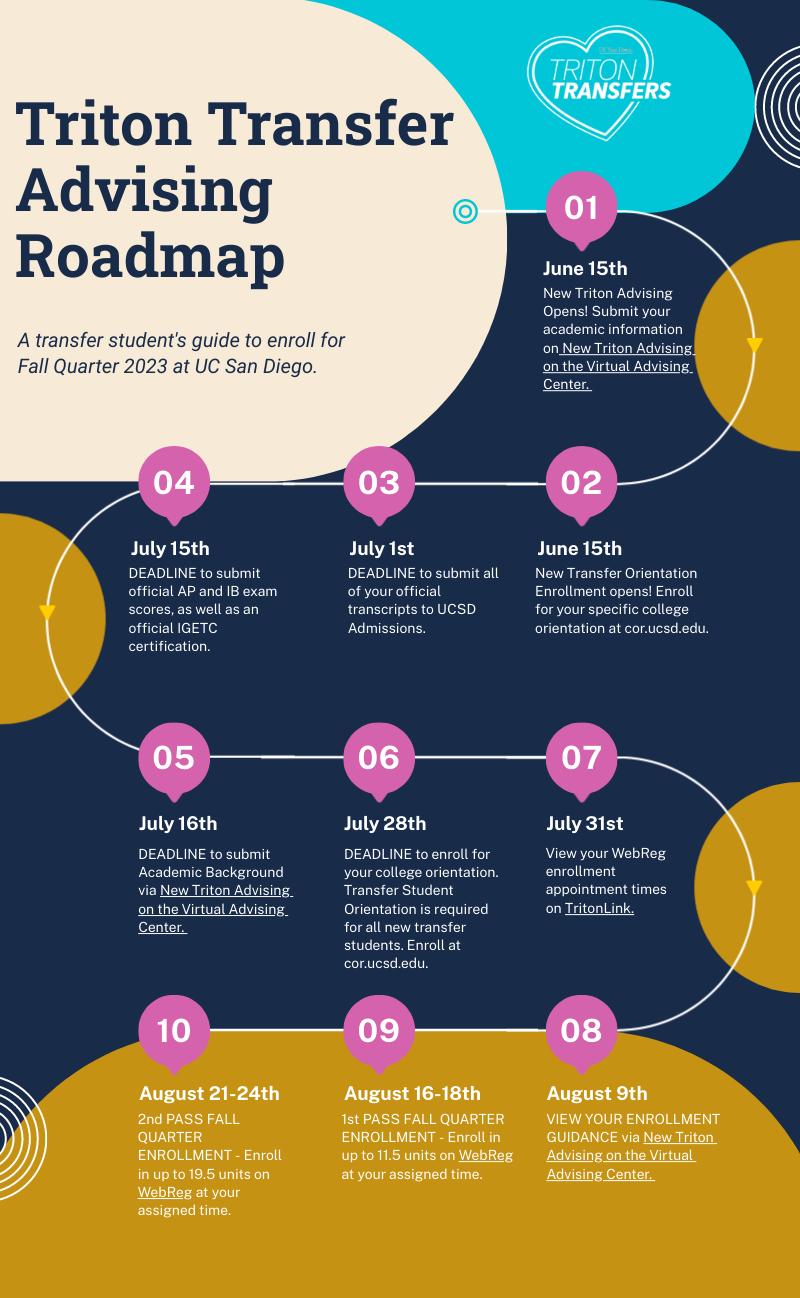 Research Programs for Summer of Transfer
UC San Diego is known for its wonderful research opportunities. There are few specific program open to students only during the summer when they transfer to UCSD. These have deadlines that come soon after accepting your admission to UCSD. Please see boxes below if any of these are the best fit for you. Interested in research but want to wait until Fall quarter or later? Check out all the opportunities open during the academic year and beyond at UCSD in the button below.
ROOTS Program
The Biology Research Opportunity and Orientation for Transfer Students (ROOTS) is a new NSF-funded program to help transfer students build laboratory skills and find a research position immediately upon starting at UCSD. ROOTS is a four-week workshop prior to the start of fall quarter for incoming transfer students to learn and practice basic molecular biology laboratory skills in a supportive setting while meeting other transfer students and networking with UCSD Biology faculty seeking student researchers.
STARTneuro
STARTneuro is a competitive program that trains, mentors, and funds diverse transfer students as they enter neuroscience research. Our program begins with a summer research training program to ramp students up on key neuroscience techniques and facilitates lab placements with faculty mentors during the school year. STARTneuro also provides ongoing mentorship and workshops to prepare students to apply for Ph.D. programs. Our program funds 10-15 students to work full-time in labs over the summer, as well as part-time during the school year.
T-REx
The Transfer Research Experience (T-REx) for incoming transfer students offers a 4-week (Aug 7 – Sep 1) program in the summer before the first enrolled quarter where you work in a research group in the Department of Chemistry & Biochemistry side-by-side with other undergraduates, graduate students, and postdocs on-campus for 10 hrs per week. Activities include working in a laboratory or computational research environment, performing experiments, participating in instrumentation facility tours and research group meetings, and networking with researchers at all levels of experience. $1,000 stipend for each participant. Housing or transportation are not provided.
Incoming Student Contacts
Admissions
All questions regarding transferring credits can be directed to https://admissions.ucsd.edu/contact/
Financial Aid
Questions regarding your financial aid package or disbursements can be directed to finaid@ucsd.edu